Convenient banking | Subsidiaries
At Valitor, we make buying and selling easy. We remove complexity from payments with our own technology, solutions and regulated services to help merchants stay focused on their business. We are an international payment solutions company and one of few who offer end-to-end solutions with payment acceptance, issuing, omni-channel gateway and point of sale services. Founded in 1983 and headquartered in Iceland, we operate across 22 European countries with a strong presence in the UK, Ireland, Nordics and pan-European retail.
At year-end 2018, there were 418 employees of 25 nationalities working in Valitor's six offices in Hafnarfjördur, the UK and Denmark. The company is wholly owned by Arion Bank.
Valitor continued in 2018 with yet another year of growth, finishing the year with total gross revenue of ISK 21.3 billion, which is 6% growth over 2017 gross revenue. The net revenue, which is the gross revenue minus interchange and schemes fees, amounted to ISK 9.3 billion, increasing by 23% year-on-year. The total number of customers at Valitor was about 40,000 at year-end.

Highlights

In 2018 Valitor made considerable investments in product development, sales and marketing, especially in omni-channel payment solutions for larger merchants.

The domestic business performed well in 2018. The direct-channel business (Chip & PIN, AltaPay and IPS) performed below expectations, which is explained by slower sales growth in the UK & RoI than planned and delays in rolling out the omni-channel platform. Towards the end of the year, UK & RoI sales accelerated well and major omni-channel customers were signed up and implemented – both good signals going into 2019.
Global Partnerships performed better than forecast. As expected, our largest partner decided to become their own acquirer and therefore removed their portfolio from Valitor by July. This materially affected our revenue and transaction growth for the year which is expected to pick up nicely again in 2019, as we are well positioned in highly attractive markets in SMB (small and medium businesses) and omni-channel payment solutions for larger businesses.
Valitor is a growth company
Valitor is a growth company, competing internationally in an extremely dynamic market, governed by several forces, the main ones being:
High level of competition and lower barriers to entry for new entrants than before (acquirers, fintechs, payment service providers.


Technology changes along with changes in consumer behaviour – and different behaviours and requirements by demographic groups, e.g. generation Z, millennials, and older market populations.


High regulatory impact – general regulation regarding financial institutions, and also recent regulation like PSD2 and GDPR that both came into effect in 2018.
Being a growth company and gaining competitiveness in this international environment requires Valitor to be agile and not hesitate to make changes that facilitate its growth and support its competitive strategy. Valitor embraces the changes in the payments industry and the associated challenges, and in 2018 we made several changes that will strengthen our competitiveness in 2019 and going forward.
Strategy refocus
Our business is built on a strategy that was originally set in 2012, highlighting how Valitor would compete by going through partners to gain volume and scale, and increase our footprint in selected direct markets and serve customers end-to-end, namely in the UK & RoI and Denmark in addition to Iceland.
In June, Valitor's owner, Arion Bank, had an initial public offering (IPO) with a dual listing on the Icelandic stock exchange and on the OMX exchange in Stockholm. In its communication prior to the IPO, the Bank announced that it was considering its options going forward regarding its ownership of Valitor. To support Arion Bank in this process it was decided that Valitor would have a strategic review, and Ernst & Young (EY) in London was hired to work with Valitor's management team on this project. The outcome of the work was a natural path from the changes that Valitor made last year to increase our focus on the direct channel, namely SMB (small and medium businesses) in the UK & RoI and Iceland, and omni-channel for larger pan-European customers. These are considered two of the most attractive segments in payments; the SMB market is very large and growing but is generally underserved; and the omni-channel market is growing fast with demand for "true" omni-channel solutions such as Valitor's.
We also decided to discontinue the Global Partnerships business as it has been and move a selected group of partners to the SMB partner business. The international prepaid business will mostly be phased out during 2019 and 2020. With our Issuing Solutions, Valitor will continue to service our Icelandic bank partners as the number one provider of issuing and processing services.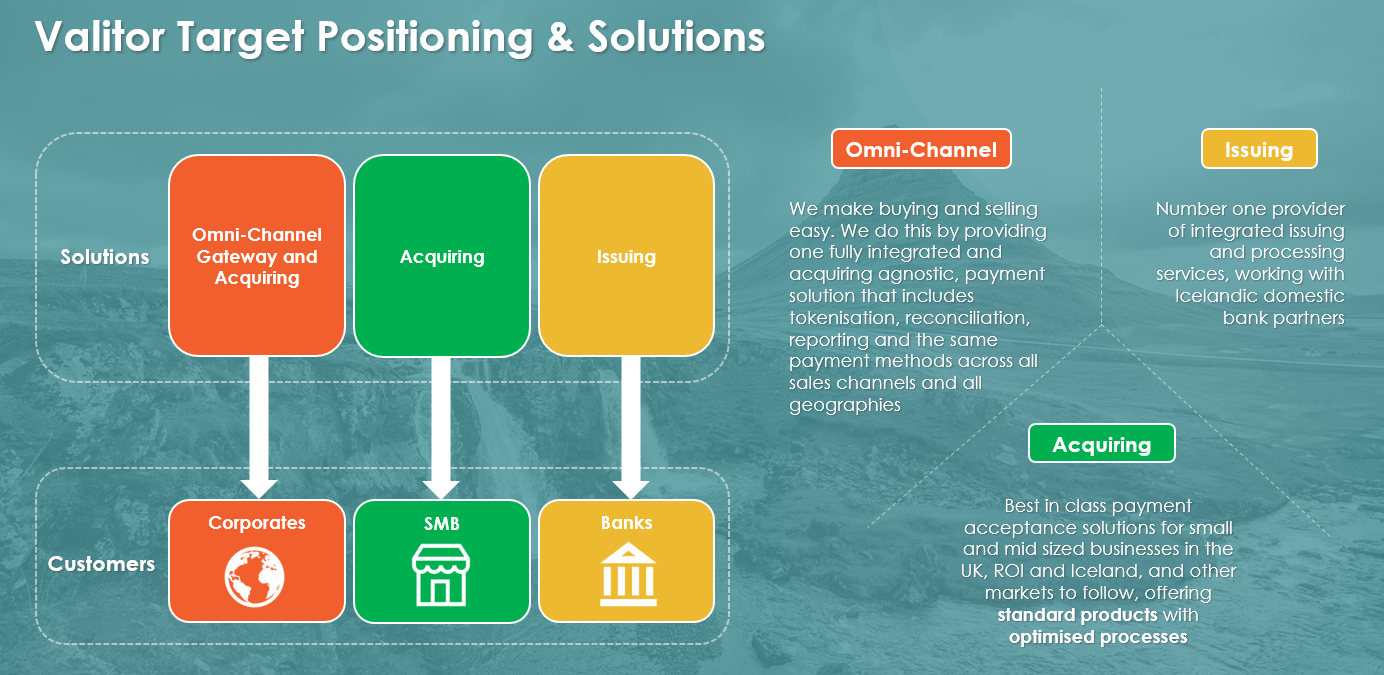 A key factor in Valitor's strategy is to develop our own payment platforms for issuing and acquiring and related payment solutions to make buying and selling easy. We believe that this is the key to be able to differentiate and outperform our competitors going forward. Our omni-channel gateway and acquiring solution is truly unique, enabling customers to deploy our Valitor solution for all sales channels in multiple countries at the same time – a single platform serving all our international customers; our SMB solution offers standard POS acquiring and also Ecom. And our award-winning issuing platform is state of the art.
One Valitor
In January, we launched our One Valitor programme, with the aim to bring all the different companies and entities into one company, and supported by our market research, into one brand, Valitor. The programme has been well received by employees and reinforced through regular quarterly all-employees broadcasts delivered by our CEO. Several milestones have been reached during the year for all of Valitor, e.g. shared infrastructure and workshops on shared culture and values were held. In that respect, the values of Valitor were tweaked during the year from "Trust, Collaboration, Initiative" to "Trust, Collaboration, Excellence" – where the new value of excellence refers to our agility when doing business and to being results driven.
From January 2019 all Valitor entities will be rebranded as Valitor, and the names of AltaPay, IPS and Chip & PIN will all be changed to the Valitor brand.
Our community
Valitor's policy is to be a model for environmental issues, the goal is to minimize the company's negative environmental impact by practicing sustainability both in regard to its internal and external activities. In 2016, Valitor signed an agreement with the Iceland Carbon Fund to offset air travel and company car use in coming years. Green procurement standards that are guided by sustainability considerations with suppliers and service providers have been implemented. And in 2017 Valitor partnered Klappir Green Solutions hf. on a solution addressing energy consumption and the mapping of our eco-footprint.
In 2018 Valitor renewed its company cars with electric cars and hybrid cars which are agile, quiet and environmentally friendly. Valitor's headquarters in Hafnarfjördur have green parking spaces with charging stations for company and employee electric vehicles.
Valitor offers employees a transportation contract that promotes the use of environmentally friendly and healthy modes of transportation.
Through Valitor's Community Fund, the company continued to support important projects and issues in the community in 2018 as it has for the past 27 years.
In line with our strategy, we continued to invest significantly during the year in developing our payment platforms and solutions, building the sales, marketing and support infrastructure to support healthy growth and competitiveness and value creation going forward.