One of our main focuses at Arion Bank in terms of sustainability is to help stimulate a flourishing and creative economy. In recent years we have collaborated on a wide range of exciting investment projects with our customers with the aim of strengthening the business sector in this country. We have tried as far as possible to ensure that non-banking companies under our ownership are sold to a diverse group of owners and listed on the stock market. Arion Bank has been involved in the majority of IPOs in the past few years, thereby contributing to the regeneration of the Icelandic stock market and adding to the number of investment options on the general market.
The financial system is one of the fundamental components of society. A well-functioning financial system is vital for investing money and for funding the projects society wants to undertake. It is a prerequisite for economic growth and is important for all areas of society.
Our role is to facilitate the flow of funds from savers, institutional investors and other investors to households, entrepreneurs and companies who require funding to realize their ideas. Our goal is to perform this duty responsibly and effectively. We provide our customers with support in whatever they choose to do and help them reach their goals. We aspire to be a reliable investment partner, whether the customer is a person intending to buy a family car or a house or whether it is a company making a major investment. This is how we lay the foundations to our customers' prosperity and stimulate more investment, development, economic growth and a creative economy.
Arion Bank was listed on the main markets of Nasdaq Iceland and Nasdaq Stockholm on 15 June 2018, following a successful IPO in which 28.7% of shares were sold. Arion Bank thereby became the first Icelandic bank for more than a decade to be listed on the Icelandic stock market, an important milestone for the Icelandic economy.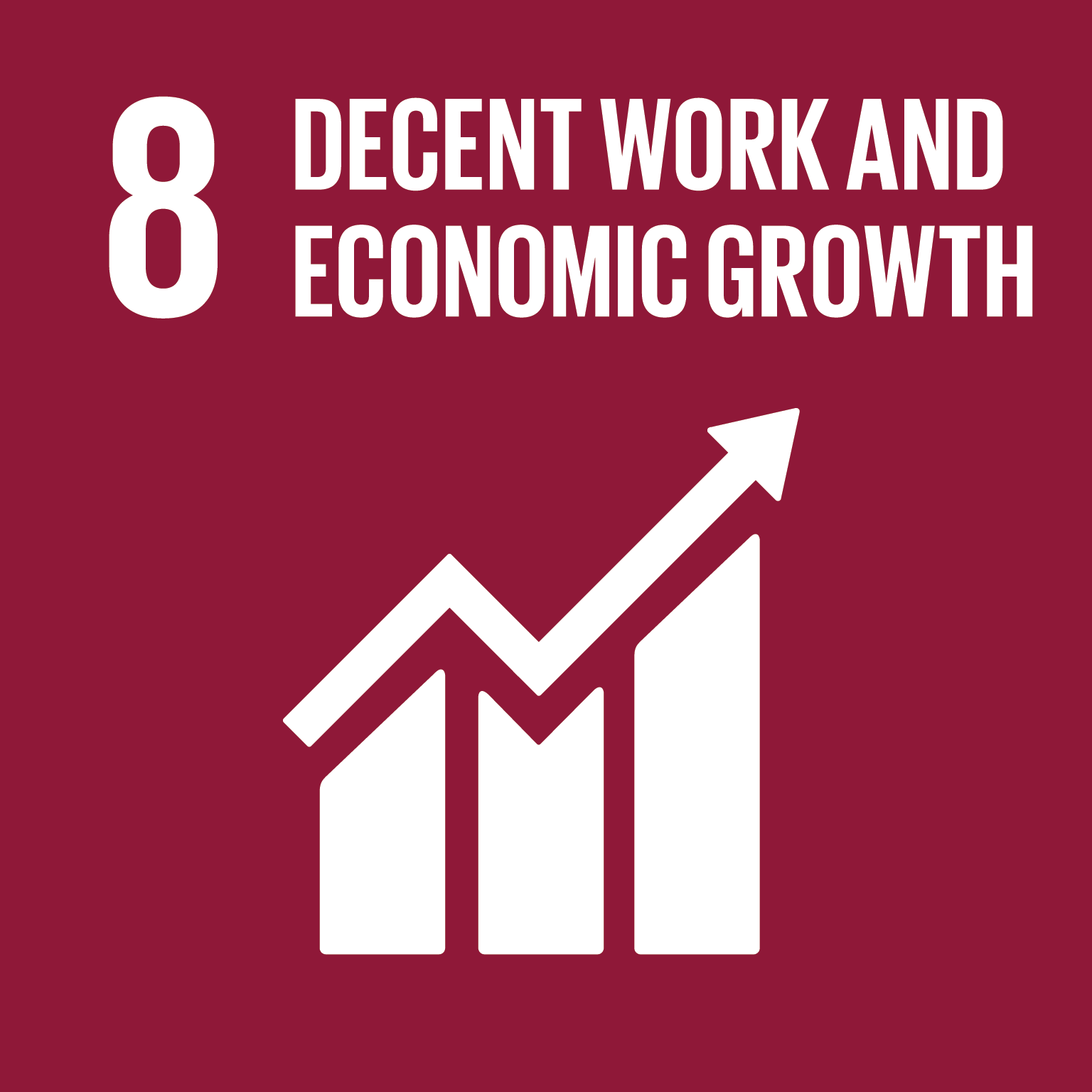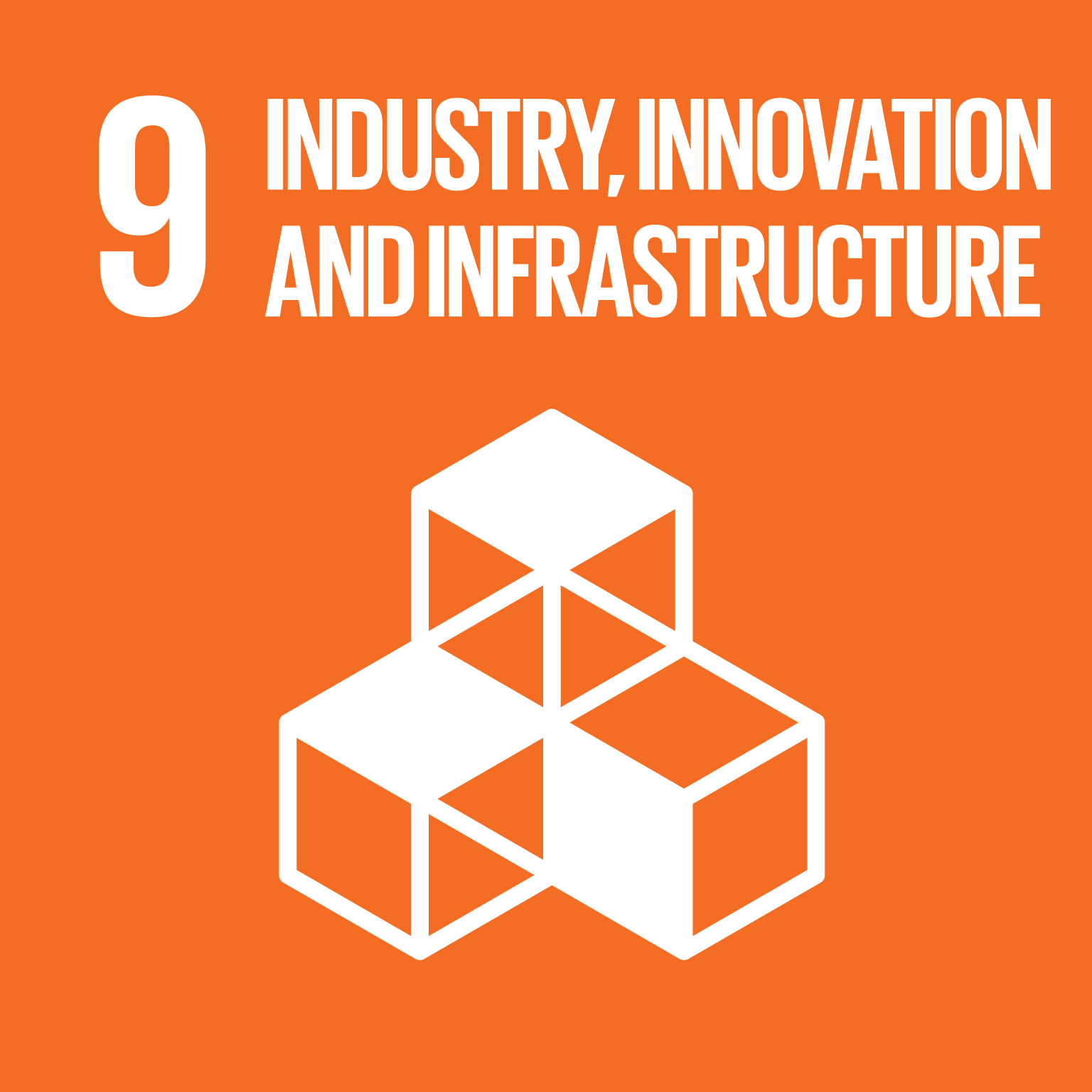 We also firmly believe that cultivating innovation has a positive impact on society and we are therefore committed to supporting innovators, which includes providing them with advice and access to funding and by helping companies in product development. Art and design are also major contributors to creating an economy characterized by creativity and innovation and Arion Bank provides strong backing to such activities.
Arion Bank's commitment to innovation and its active participation in development and investment projects and responsible banking supports two of the UN's sustainable development goals, namely decent work and economic growth, and industry, innovation and infrastructure.
Innovation
Arion Bank works closely with entrepreneurs and seed companies
We firmly believe that cultivating innovation has a positive impact on society and we are therefore dedicated to supporting innovators, which includes providing them with advice and access to funding and by helping companies in product development. Arion Bank works closely with entrepreneurs and seed companies, as well as investors.
Since 2012, financial support from Arion Bank in the form of seed investment and grants for various innovation projects in Iceland has evolved as shown here:
Financial support from Arion Bank
ISK bn.

Innovation can transform ideas and knowledge into new technology, new ways of doing things or even new industries in both established companies or at the seed investment stage. All endeavours to innovate, develop and create new value are important and we take such enterprise seriously and carefully consider whether and how we can provide our support.
We want to create fertile ground and a positive and stimulating atmosphere for innovation and seed companies in Iceland. We offer diverse ways and financial solutions to help individuals and companies achieve their future goals. This is how Arion Bank supports innovation from primary schools to universities and all the way to the workplace.
Popular business accelerators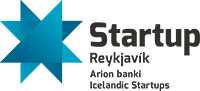 Arion Bank's main seed investment programme is Startup Reykjavík. Its objective is to create an environment where entrepreneurs can receive advice and guidance from experienced mentors in order to realize their ideas and thereby create new business opportunities.
Participating companies are offered seed funding in the form of equity, and working facilities where entrepreneurs have the opportunity to work together, receive mentoring and meet people from the seed investment scene at public events. The companies are also given the opportunity to present their business ideas to Icelandic and international investors with a view to discussing how to develop the ideas and raise future funding. Startup Reykjavík is wholly owned by Arion Bank but the business accelerator is run in collaboration with Icelandic Startups. Startup Reykjavík was named the best business accelerator in the Nordic region in 2015 and the best one in Iceland in 2015, 2016, 2017 and 2018 by the Nordic Startup Awards.

Startup Energy Reykjavík (SER) is a business accelerator based on the same template as Startup Reykjavík but it focuses on projects and companies in the energy sector. It was launched in the spring of 2014 and seven companies took part. A further seven companies participated in the spring of 2015, followed by seven more in the autumn of 2016. SER is a collaborative project between Arion Bank, Landsvirkjun, GEORG, Innovation Center Iceland, Icelandic Startups and Iceland Geothermal.
The number of applicants to the two business accelerators clearly illustrate the great need for seed funding and active mentoring for seed companies. Arion Bank invests in all the companies selected to participate in the two business accelerators.
Total number of investments by Arion Bank in seed companies

Providing a company with funding as it takes its first steps is generally of critical importance. Companies which have gone through SR and SER have received additional funding following their participation in the business accelerators. By the beginning of 2019 companies had received ISK 4,800 million in funding in the form of equity and grants.
The level of activity of seed companies several years after launch is highly variable. While some companies prosper, others experience difficulties or shut down altogether. This is completely normal in business and depends, among other things, on the resolve of the entrepreneurs, mixed in with customer demand and other factors. The level of activity of all SR and SER companies from the very beginning is shown in the graph below:
Total number of investments by Arion Bank in seed companies
The number of applications to Startup Application and Startup Energy Reykjavík
Funding of SR & SER companies by year

The shareholdings in the companies participating in the two accelerators are held by the holding companies Startup Reykjavik Invest ehf. and SER eignarhaldsfélag ehf. At the end of 2018, shareholdings in SR and SER companies were valued at ISK 379.8 million.
Collaboration with European Investment Fund
In 2016 Arion Bank began collaborating with the European Investment Fund (EIF), and now offers funding for small and medium-sized enterprises, which are planning to bring innovation into their business, whether in the form of new products, procedures or services. The aim of this partnership is to provide companies with access to funding at lower interest rates once certain conditions have been met and the thereby to support innovation, stimulate business activity, research and development. The loans are intended for SMEs planning to invest in:
New production
Introducing new products, procedures or services
Development
Newer methods
Technology
The EIF guarantees the part of the loan provided by Arion Bank and the customers benefit from the partnership by paying lower interest rates.
The EIF is owned by the European Investment Bank and partners 74 financial institutions in 29 European countries. Arion Bank is the only bank in Iceland which is collaborating with the EIF.
Shareholder in venture capital fund Eyrir Sprotar
Arion Bank, in cooperation with Eyrir Invest, runs the venture capital fund Eyrir Sprotar slhf. Eyrir Invest and Arion Bank are the fund's largest shareholders and in 2016 the Bank increased its investment to ISK 1.3 billion.
Never too early to start
Arion Bank is one of the main sponsors of the NKG innovation competition which is intended for students in the 5th-7th grade. A total of 1200 ideas were entered in 2018 and 26 were selected to compete for the top prize.
The Bank is also one of the main sponsors of Junior Achievement Iceland. The role of these organizations is to prepare young people for the future and to improve their skills for the job market and by promoting education in innovation, entrepreneurship and business at secondary school level. Innovation is presented to students with the aim of fostering the spirit of entrepreneurship and training the innovators of the future. In 2018 more than 500 students from thirteen schools took part and this number looks set to grow over the next few years. The aim is to give Icelandic students the opportunity to experience innovation first hand in the classroom. Arion Bank is one of four sponsors behind the project.
Supporting innovation at many levels of society
It is our view that by supporting innovation at various levels of education and different stages of a company's development we are fostering an environment in which an even more varied business sector can prosper in the future.
By doing this Arion Bank is supporting innovation all the way from primary school to the workplace.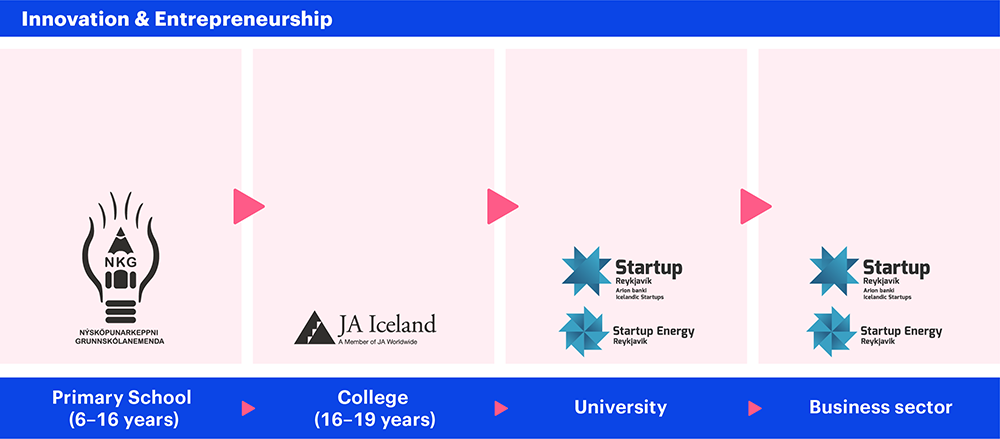 Innovation at Arion Bank
Developing digital financial products has been a key focus of Arion Bank and we have become a market leader in this area. Innovation and the development of the Bank's products and services is conducted within a business accelerator called Digital Future. The Bank has openly discussed the methodology used to develop and introduce digital financial services, and the Bank's digital solutions won several international prizes during the year.
Art and design
Arion Bank regularly organizes art exhibitions and lectures on visual art at its headquarters. The Bank now owns around 1,250 works of art by several of Iceland's leading artists and many of these works are on display at Arion Bank's branches and places of work.
In March the Bank's headquarters became one of the venues for DesignMarch for the third time. In 2016 Arion Bank and the Iceland Design Centre signed a 3-year partnership agreement on the Bank's involvement in this design festival. The DesignMatch event was hosted at our headquarters as part of DesignMarch. It has been described as a kind of trade fair where Icelandic designers are given the opportunity to present their ideas and designs to international buyers and manufacturers.
At the same time the exhibition Önnur sæti (Runners up) was opened, showing alternative designs for well-known Icelandic buildings, ideas which received accolades in architecture competitions but which were eventually not used. The exhibition was curated in collaboration with historian Anna Dröfn Ágústsdóttir and architect Gudni Valberg. Illustrations by graphic designer Viktoria Buzkina from Hvíta húsid also contributed greatly to the success of the exhibition. A detailed exhibition catalogue was published and the exhibition was very well attended.
During the summer of 2018 an exhibition of works from the Bank's collection was opened at the headquarters and a new exhibition, Eftir kúnstarinnar reglum (By the book), was opened in November. This exhibition brought together works by five artists born around 1900 belonging to the naïve art school and then four contemporary artists born in the 1970s and 1980s. The exhibition was opened with a lecture by art historian Aldís Arnardóttir entitled Sögumenn endurminninga og ævintýraheima (Tellers of reminiscence and fairy-tale worlds).
Several works were added to the Bank's collection during the year. These include a large painting by Thorvaldur Jónsson and an embroidered work by Loji Höskuldsson, both works created especially for the exhibition Eftir kúnstarinnar reglum.
The Bank regularly lends works from its collection to exhibitions both in Iceland and abroad. The Bank owns several of the works shown in the exhibition Einskismannsland – Ríkir þar fegurðin ein? (No man's land – Where beauty alone reigns?) at Reykjavík Art Museum, and in the autumn a work by Nína Tryggvadóttir was lent to the exhibition Alls konar landslag (All kinds of landscapes) at Skaftfell Center for Visual Arts.
In 2018 the Bank donated several works from its collection, including works previously displayed at the Bank's branches in Ólafsfjördur and Siglufjördur to the museum Listasafn Fjallabyggdar in northern Iceland.